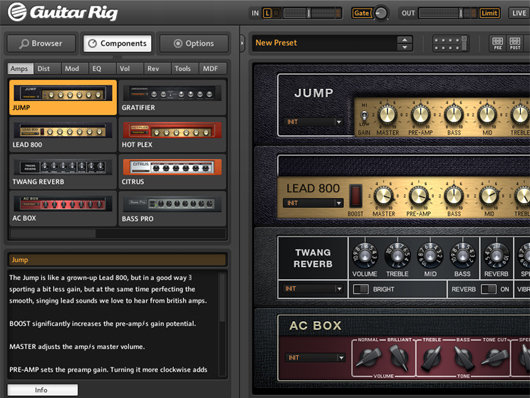 Native Instruments Guitar Rig Pro 4 [All New Version]
GUITAR RIG 4 PRO is the ultimate all-in-one guitar and bass solution for perfect custom tone. The powerful and intuitive software comprises of a vast array of amps, cabinets, mics and effects, recreated in stunning detail. The latest version includes 3 new amps, 4 new super-flexible effects and above all, the revolutionary Control Room for that "big bucks" studio tone. The GUITAR RIG 4 PRO software offers 15 amazing guitar and bass amplifiers, modeled with the exacting precision of NATIVE INSTRUMENTS' award-winning Dynamic Tube Response Technology®. Including the original multi-channel designs and model-specific tweaking options, these amps not only accurately convey the character, charm and feel of their real-world counterparts, but also offer a huge arsenal of tried-and-true tones for all genres.
Features:
• 15 supreme-sounding guitar and bass amps
• Brand new Control Room module offers carefully tweaked professional mikings for unparalleled studio tones.
• New Matched Cabinets (version 4) offers a harmonized speaker setup for every single amp
• 48 perfectly modelled guitar effects including distortions, flangers, choruses, tremolos, wah-wahs, pitch shifting, delays and reverbs plus premium features like the loop machine and powerful modifiers.
• New Master Effect section retains reverberation and delays while changing presets
• Improved preset browser with extensive search functions and KORE 2 format compatibility
• More than 250 brand new, high-quality presets for all genres
• True stereo processing for all components
• Cabinets & mics module with 17 guitar and six bass cabinets, four rotary speakers and nine microphones
• Integrated tuner, metronome and two tapedeck modules for easy recording
• Dedicated "Live View" for performing on stage
• All Guitar Rig 4 software versions are fully expandable with upcoming Guitar Rig Expansion Packs